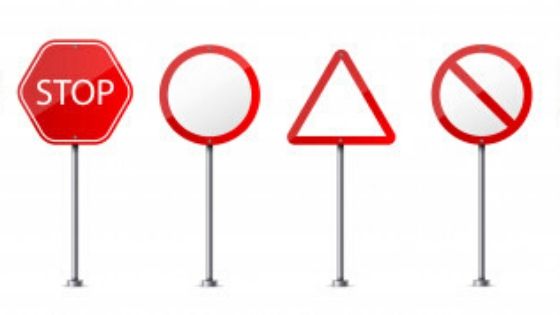 Road signs inform road users, whether they are drivers or pedestrians, of the rules to be followed when traveling. Whether vertical or horizontal, road signs are designed and integrated into the highway code with a specific objective: to limit road accidents.
Vertical road signs types
During each trip, users encounter vertical road signs. This type of signage performs three main functions:
To warn of dangers by triangular signs
To give indications or information during a journey
To signal a prohibition or an obligation by using round signs
1. Triangular signs: the danger
Triangular road signs are used to indicate danger. When driving in a city center, these signs are located 50 meters ahead of the danger. However, on roads outside urban areas, they are located almost 150 meters before the danger that they show to road users.
2. Round signs:
Prohibition or obligation signs.
3. Directional signs
In contrast to danger and obligation signs, which give direct instructions to the user, directional signs make it easier for drivers to use the road.
If the blue color indicates the direction of a highway, the yellow color stipulates, for example, the presence of a temporary route. In addition, there are advance warning, position, and confirmation signs.
All these signs are intended to prepare the driver for a decision:
Advance signs are rectangular and indicate a direction
Position signs end with an arrow and are positioned to allow performing a maneuver
Confirmation signs indicate the number of kilometers needed to reach the stated destination. They often specify the category and number of the taken road.
Horizontal road signs
Horizontal road signs refer to the ground markings found on the roadway: drawings, arrows, lines…
As for traffic signs, there are different colors of road markings in the highway code depending on the information to be conveyed to users. For example, yellow road markings have priority over white. It must therefore be respected.
The lines in the middle of the roadway do not only indicate the traffic lanes. They can also give information about the type of road or the possibilities of overtaking in the traffic rules. The white arrows on the roadway provide directional information.