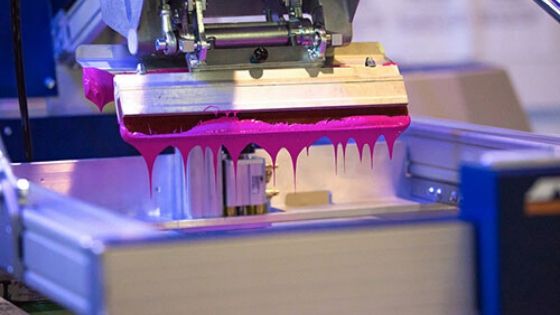 All about industrial silk screen printing!
Industrial screen printing is one of the oldest printing methods, having originated in China centuries ago. At first, it was only used on textiles. Nowadays, it can be used on other materials such as paper, wood, and many others.
To help you in the choice of printing technique, this article is a close-up of screen printing.
Principle of industrial silkscreen printing
Screen printing is a printing process that takes its name from silk. It has been used in the Far East for thousands of years. In fact, this process consists of printing on support using the technique of the stencil. The motif can be a text or an image.
For that, the printer uses a screen covered with ink or a photosensitive emulsion. This one is equipped with a film that protects the part to be masked from the ultraviolet rays. By being exposed to light, the emulsion that is spread on the screen hardens. It is then impregnated into the support, while the emulsion protected from ultraviolet light is rinsed with water.
Nowadays, we use more advanced silk-screening machines. Indeed, their screen which was originally in silk is replaced by polyamide and polyester. In addition, the frame, which was once made of wood, is now made of aluminum.
There are also several types of industrial screen printing, we find in particular:
The flat-screen printing: For the flat supports
The rotary screen printing: To print cylindrical objects
The screen printing on textile: It is a more elaborate process, essentially for the color impression.
The use of silkscreen printing
The technique of screen printing differs from other methods by the possibility of using all kinds of supports. These do not have to be flat. Their surfaces can have any shape. That's why it can be applied on bottles, personalized jewelry, boxes…etc. Thus, this printing process has an extremely broad application domain: reproduction of posters, textiles, decorative objects, printed circuits, and even road signage.
Advantages of silk screen printing
This printing has many advantages, such as :
Printing on a large surface
The use of any kind of support
Printing on large objects
The cost of realization is reduced
The practicality of the process
Disadvantages of silk screen printing
This technique reveals on the other hand some flaws, such as :
The printing in color is quite difficult.
The need for a drying oven
Pre-treatment of the surface to be engraved.
Like typography, screen printing allows designers to express their creativity because of the flexibility of this process.